Category Archives:
STAR RECIPES
Delicious Fish Curry

Print recipe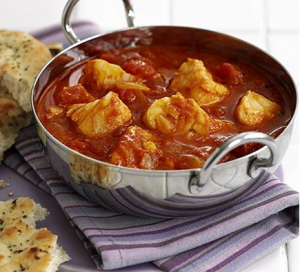 Ingredients
2 Medium Cod Loin Fillets (cubed)
2 teaspoons Chilli powder
6 Small Shallot Onions (Chopped)
4 Small Green Chillies (De-seeded)
handful Curry Leaves
1 carton Tomato Passata
2 tablespoons Tamarind Paste
1 bulb Garlic (crushed)
Olive Oil
Directions
Step 1
Cube the cod and set aside
Step 2
Blitz the shallots garlic. and de-seeded chillies together
Step 3
Heat olive oil in a wok or large pan and add the shallots, garlic and chilli and fry until golden brown then add chill powder and make sure the powder is cooked out but don't burn
Step 4
Then add the tomato passata to the pan and stir then mix the tamarind paste with one cup of water and pour into the pan and bring to the boil and add the curry leaves
Step 5
Add a couple of whole chillis and stir in
Step 6
Now add the fish and cook for approx. 10mins then serve with rice or crunchy bread
Mushroom Hungarian Goulash

Print recipe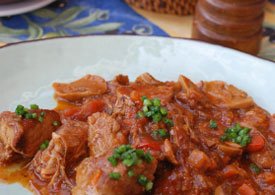 Ingredients
250g Chestnut Mushrooms (Quartered)
1 tin Cherry Tomaoties
1 Small Onion (Sliced Thinly)
1 Medium Green Pepper (Cut into thin strips)
1 bulb Garlic (crushed)
1 cube Beef Oxo
2 teaspoons Paprika Powder
1 tablespoon Tomatoe Puree
1 Small Birds Eye Chilli (Lightly Bashed and finely chopped)
1 tablespoon Red Wine VInegar
Note
1 BOWL IS 165 CALORIES!  YOU CAN HAVE A NON-FAT DESSERT AFTERWARDS!
Directions
Step 1
Saute the onion, garlic and green pepper and mushrooms until soft
Step 2
When soft add the prapika powder and stir in
Step 3
Then add in the can of tomatoes, oxo cube, tomatoe puree, birds eye chilli and red wine viengar and mix and stir in and bring to the boil
Step 4
Turn heat down and simmer for one hour stirring occasionally
Step 5
Serve and enjoy!