Pork Recipes
Oriental honeyed pork

Print recipe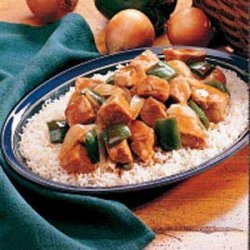 Ingredients
500g pork fillet
4 tablespoons seasoned cornflour
4 tablespoons corn oil
1 large onion, chopped
1 Bulb garlic, crushed
1 green pepper, de-seeded and chopped
400g pineapple chunks, drained (reserve juice)
Mushrooms, sliced
4 ripe tomatoes quartered
SAUCE
100ml chicken stock
4 tablespoons honey
2 tablespoons soy sauce
4 tablespoons cornflour
• Pineapple juice (reserved from chunks)
Directions
Step 1
Cut pork into cubes and toss in seasoned cornflour.
Step 2
Heat oil in a pan and fry garlic and onion.
Step 3
Add pork and fry until lightly browned on all sides.
Step 4
Lower heat and add pepper, pineapple, mushrooms and tomatoes, leave on gentle heat whilst preparing sauce.
Step 5
To make the sauce mix together chicken stock, honey and soy sauce.
Step 6
Blend cornflour with pineapple juice and add to the mixture.
Step 7
Add sauce to the pan and stir whilst bringing to the boil.
Step 8
Transfer all ingredients to the crock pot, place in the slow cooker base and cover with the lid.
Step 9
Cook for approx. 5-8 hours.
Step 10
Serve with rice and fresh green vegetables
Pork Chops in Ginger Beer  (? Calories Per Serving)
Delicious simple way with Pork Chops in yummy ginger beer…recipe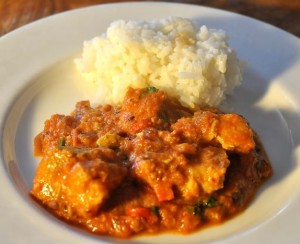 Pork Curry (? Calories Per Serving)
Delicious simple pork curry  …recipe